August 19th 2017 - 9:30 till 11:30 Old Time Trades Workshop. See our Events Page!
Event brochure: click here.
August 19th 2017 - 9:30 till 3:30 Immigrant Days. See our Events Page!
Free and open to the public.
Event poster: click here.
Spring '17 Newsletter Available now for download here. And now the Summer '17 'Pictorial Newsletter', a great chance to see pics of all the things we have been accomplishing, hope you can join in the fun!
Check out all our newsletters and downloadable educational materials here.
---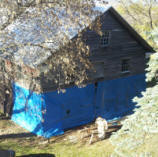 Spring 2017 at the Lutze Housebarn we are machine planing pine siding for 2017 installation, and moving forward on our footing and foundation in the northwest corner, check out our early video of the process here.
November 2015 saw us putting the finishing touches and fit-up on the last east end timber. Putting this one in place meant the entire perimeter of the main building is structurally complete and sitting on a solid foundation!! Yes! That's why it will be time to parteeee at Fasching time!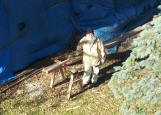 What is Fasching?
Check out a YouTube video of a part of it in the city of Rottweil, Germany (Chris took a timber framing workshop there in 2002).
We are now on Facebook! Become a fan and get all the latest news and discussions! Look to our Facebook page for the latest photos and videos, weekly plans and more!
Intro
In the 1840's, many people from the Saxon state of Germany and others from surrounding European areas settled in what is known today as the Town of Centerville, Wisconsin, USA.
They were attracted to the land of rich resources and the similarity to the homeland they left behind.
This heritage remains strong in the Centerville community today, reflected by it's people, landscapes, and buildings.
Who and Where We Are
We are a non-profit tax deductible group, Centreville Settlement, Inc.. We are dedicated to the preservation of our rural farming heritage, and offer experiences in northeast Wisconsin, USA.
Over the past years, the members and friends of the organization have assisted with the Wisconsin Sesquicentennial Wagon Train event, helped coordinate bake oven events, performed oral histories of oldsters throughout the area, and have continued to document and educate about historic buildings in the Centerville Township area of Manitowoc County, Wisconsin.
Do you have a story to share about days gone by? Would you like to dig into the past to learn more about local history? Greater Centerville Historians is a branch of Centreville Settlement, Inc. that has become a model for oral history methods in Wisconsin.
---
Our Goals and Programs
Centreville Settlement, Inc. seeks to preserve this rich heritage thru:
Preservation of buildings... many historic and unique buildings exist in the area and are in need of preservation before they are lost forever.
Developing educational programming focused on:
Ethnic arts and crafts
Settler sufficiency skills
Understanding heritage and its value today
Restoration skills and techniques
Genealogy
Local historical research and documentation
Promoting and stimulating economic development through:
Bed and breakfasts
Cottage industries
Tourism sympathetic to history and preservation
Appropriate economic use of historic buildings
Promotion of local products and industry
Preserve rural history by:
Developing a rural historic district in which buildings can be seen in their original settings
Record the oral and video history of the area for future generations
Insuring the serenity that attracted the original settlers
Restoring the Lutze Housebarn and other historic German-American buildings in the area
---
Telephone

920-693-8525 General Information
920-693-3141 Lutze Housebarn Restoration Director
920-693-3454 Tours Coordinator


FAX

801-305-7974

Postal address

Electronic mail

President: Richard Lutze
lutze (at) tds.net
Treasurer: Greg Zahn
greg (at) circleunionfarm.com
General Information and Acting Secretary:
Kathy Pearce - kpcharmer2013 (at) gmail.com
Volunteer Coordinator: Open
Community Historian: Richard Otto Wiegand -
rowiegand (at) centrevillesettlement.com
Lutze Housebarn Restoration Director:
Chris Kuehnel - chris (at) centrevillesettlement.com
Tours Coordinator: Sarah Lutze - sdlutze (at) sasd.net
Greater Centerville Historians Advisor: Kathy Sixel - kdsixel (at) tds.net
Edith Lutze, one of our founding members and long time supporters, passed away Saturday morning January 4, 2014 in Sheboygan. Edith was known for her encouraging words and the great memories she shared. For many years she provided volunteers with her famous "5 Star Meals" and hospitality at the Lutze Housebarn. We thank you Edith for all the things you did with and for us the past 25 years!